59 Reasons to Arrive Early for Your Next Flight Out of the SLC Airport
By Melissa Fields
Though it's a source of endless irritation for my husband, I love to get to the airport at least two hours before my flight is scheduled for takeoff. It allows time to turn back in the event someone has forgotten their phone, passport, vax card, driver's license, etc. I've also found that having the extra time keeps my blood pressure steady, in even the fullest TSA mazes. And, best of all, when none of the aforementioned snags occur—which is most typically the case—I get to indulge in the real reason I like to get to the SLC Airport early: grabbing a coffee, sitting down for a glass of wine and bite to eat or doing some shopping
Now that passenger levels have returned to (and sometimes even exceed) pre-pandemic levels, all but one of the SLC Airport's retail stores and restaurants—in the terminal and both concourses—are open for business. And, thanks to careful curation by Shane Andreasen, the airport's director of administration and commercial services, the thoughtful mix of national and Utah-based shops and eateries in residence there levels up with any high-end mall or shopping center. "Travelers want to experience Salt Lake, even if they are just connecting through here," Andreasen says. "Having a strong representation of local restaurants and retail, along with familiar national brands, makes for a positive and memorable travel experience."
A SLC Airport shop among my new go-tos when I fly is Frye, located on the corner of the Departures Hall and Concourse A. This beautifully appointed store is, in fact, the only dedicated brick-and-mortar location of this iconic brand on the planet and carries more than 50 styles of shoes, boots and sandals, for both men and women. The Frye store inventory also includes a lovely selection of scarves and leather totes, purses, and belts.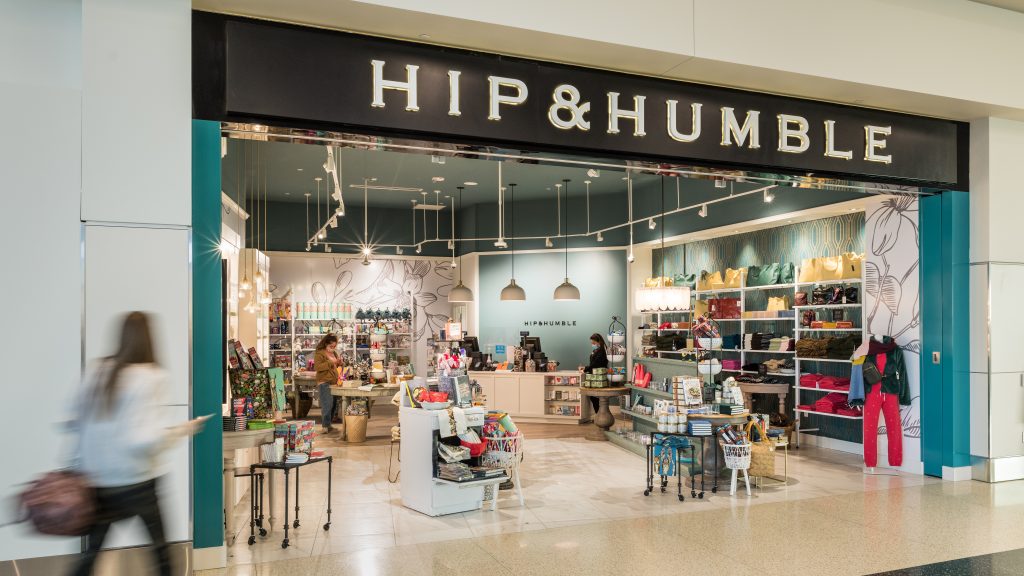 Located conveniently next door to Frye is Hip & Humble, an irresistible gift and clothing boutique with Utah roots. Like H & H's stores in Salt Lake City, Bountiful and Farmington, this inimitable store's airport location is bursting with a thoughtfully curated stock of unique and, in many cases, sustainable gifts, skincare products, books, journals, handbags, loungewear and much more.
Speaking of unique—and Utah roots—The New SLC's UTAH! Store (located within Concourse B) offers a wonderful assortment of distinctly local products. "Based on our strong presence in the Salt Lake City market, we have built relationships with local brands, suppliers, local entrepreneurs, and creators," says Cindi Buckwalter, vice president of communications for Hudson, North America's largest travel retailer and operator of the SLC Airport UTAH! Store. "The diversity of great products available enables us to curate products to appeal to all customers and bring the flavor of Utah to the SLC Airport."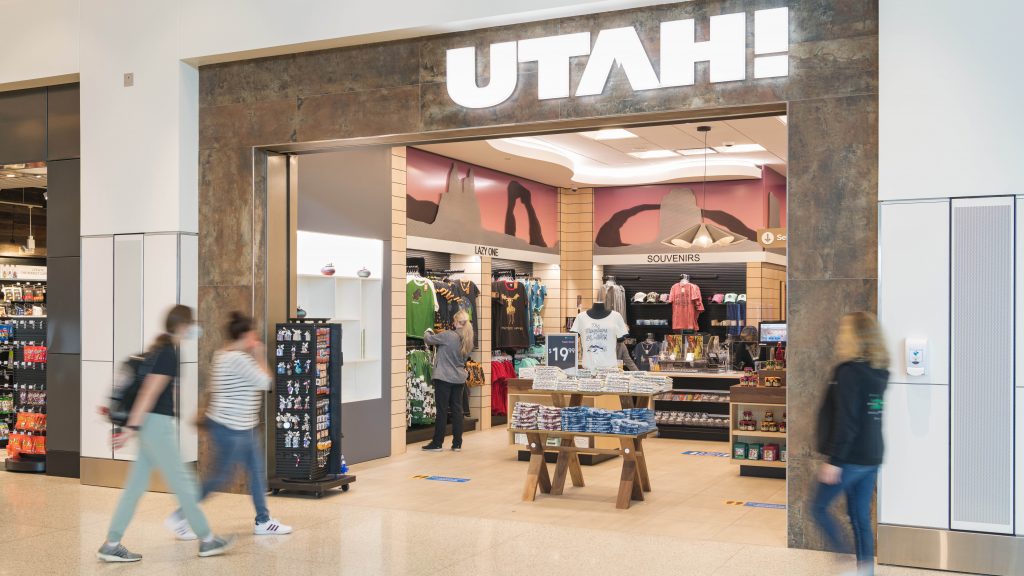 I realized Cindi's sentiment when I visited the UTAH! Store before hopping on a flight to Atlanta for my brother's 50th birthday. In that one store I found a sampler box of Cox's Honey for my sister-in-law, Taffy Town candy for my nieces and, for my brother, American Art: Challenging Traditional Interpretations, a coffee table book featuring photos of select pieces from the Utah Museum of Fine Art's permanent collections.
The Visit Salt Lake store (Concourse A) also features a plethora of Utah-made items, but with an emphasis on local artisans. Some of the treasures you'll find there include Sticks & Stones' handmade, mountain-inspired jewelry by Sarah Snedaker; handmade soaps and lotions by Beehive Soap & Body Care; Manai Design Co.'s colorful and clever stickers and graphic art, created by Aaron Roth and Andy Dutton; and heirloom-quality pottery by Bruce Larrabee, a Park City, Utah ceramicist.
Many of the SLC Airport's restaurants are locally based as well. For coffee, I like to visit either Beans & Brews—one of Utah's oldest coffee houses—located in Concourse A near gate A15, for a blended chai; or Gourmandise, an award-winning Salt Lake City-based French bakery (Concourse B, near gate B9), for a made-from-scratch chocolate croissant or blueberry-lemon scone and a La Barba cold brew.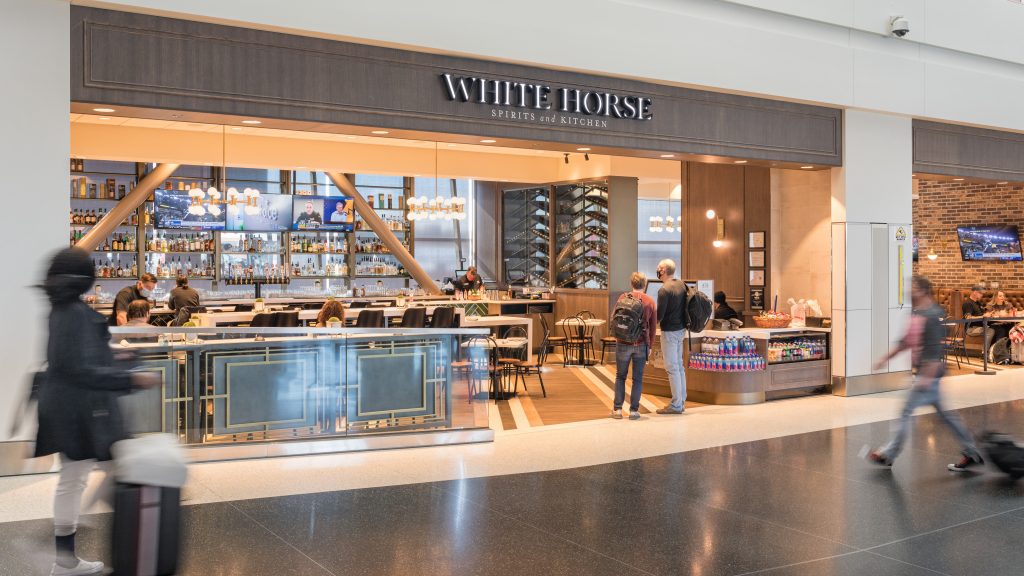 When I'm flying in the evening, I make a beeline for White Horse Spirits & Kitchen (Concourse A, near gate A25). The menu there includes many of my favorites from the original White Horse in downtown Salt Lake City, like the tomato bisque, crispy fried Brussels sprouts and the truffle grilled cheese. White Horse's airport location also boasts an extensive wine-by-the-glass list and creative craft cocktail menu. "We decided to open a location at the SLC Airport to both allow more people to experience White Horse and showcase what Salt Lake City can do," says Matt Crandall, executive chef of the Bourbon Group, owners of White Horse Spirits & Kitchen and multiple other Salt Lake City restaurants.
Many, including me, are glad to see two of Utah's most well-known breweries—Uinta and Wasatch—operating brew pubs at the SLC Airport within the new terminal (both located in Concourse B). In August 2021, those two pioneering and beloved local brewers were joined at the airport by a third with the opening of Rooster's Brewing directly adjacent to the terminal Plaza's soaring 50-foot-tall windows on Concourse A. "Rooster's is first and foremost a gathering place where everyone feels loved and welcome," says Kym Buttchardt, Rooster's Brewing owner. "Having our fourth Utah location at the airport, to welcome travelers as they arrive in Utah and give them this fun and inviting sense of place, aligns perfectly with our brand."
Some of the conveniences SLC Airport management have "baked in" to the airport's restaurant operations include that all eateries that serve coffee within both concourses are now required to open concurrent with the security checkpoint's daily opening at 4 a.m.; at least one sit-down, alcohol-serving restaurant is open on each concourse until 30 minutes before the last flight of the day departs; and through the airport's At Your Gate app, travelers can have food delivered from several airport restaurants directly to their gate.
As of April 2022, 58 of the SLC Airport's 59 available restaurant and retail locations are operational. The last available space, on Concourse B, will come alive this summer with the opening of a wellness-based retailer offering seated massages, private yoga rooms, shower rooms and more. And then, with the slated November 2023 completion of Concourse A's remaining 22 gates, 19 more businesses will open at the airport. Based on passenger feedback, Andreasen says, these concession spaces will be filled with mostly affordable, fast-food restaurants. "We've heard from many people who miss the McDonald's that was previously in the old terminal," he explains. "So, we've reserved one space in the final build-out phase for a national hamburger chain-type restaurant, though we will not know which chain will take that spot until the request for proposal process is complete sometime next year."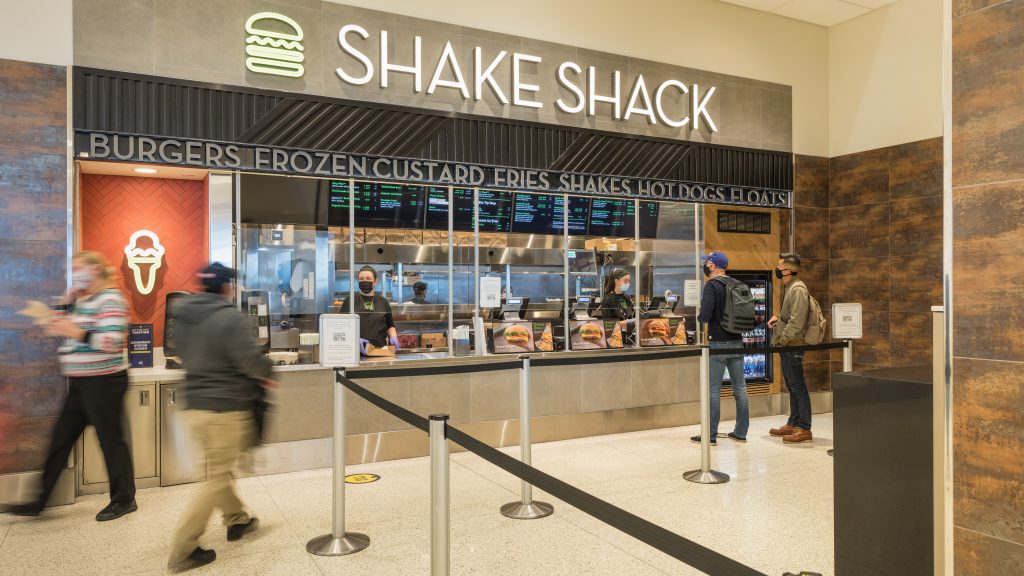 In the meantime, burger lovers, have no fear. You can get a tasty, fast-casual burger at the SLC Airport now. Shake Shack is located near departures on Concourse A and you'll find Smashburger on Concourse B near gate B5.
The next time you find yourself waiting for your flight to board or on a layover at the SLC Airport, instead of looking at one of your screens, why not take the time to find something special for a friend or family member or take a little time for yourself with a comforting beverage or delicious meal. You'll realize that getting there truly is half the fun.
Find a complete list and map of SLC Airport retailers and restaurants here.