Gordon Huether's Art Installations at The New SLC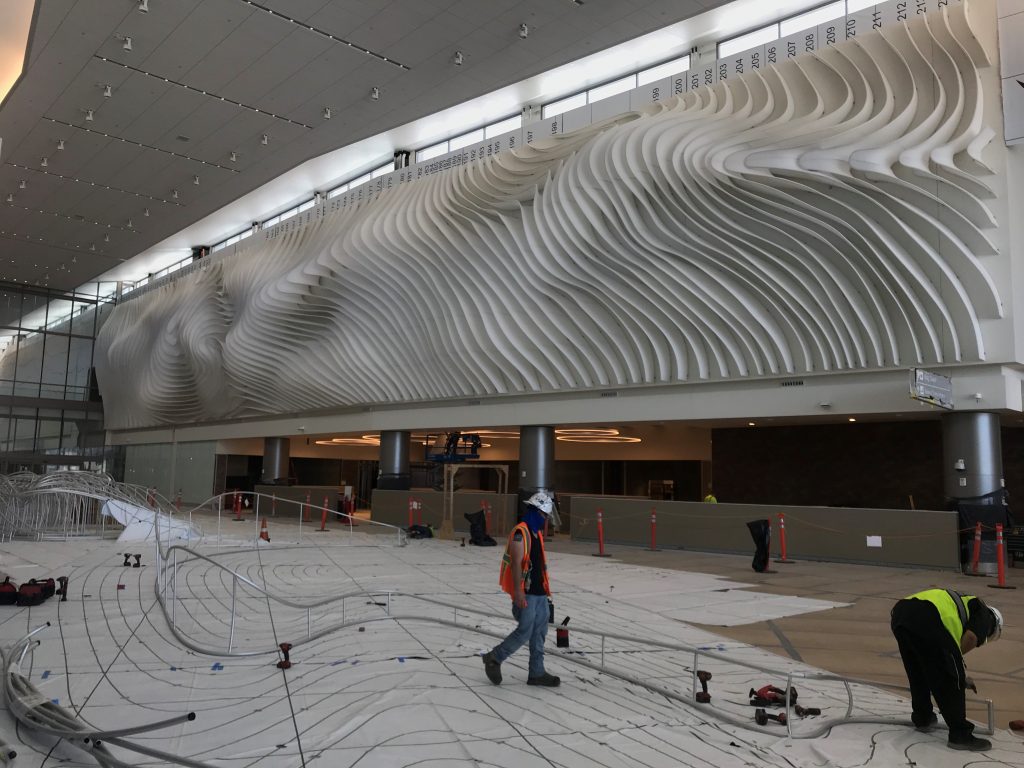 The Salt Lake City International Airport (SLC) is undergoing a $4.1 billion Airport Redevelopment Program designed to address the airport's operational needs, seismic requirements and security standards while creating one of the world's most modern and distinctive airports.
The visual aesthetic of the new main terminal will play a prominent role in the final outcome of the airport's new design. Several major, structurally integrated art installations by national public artist Gordon Huether have been incorporated into the design to create a strong identity and sense of place.­­
The Falls
The first of Huether's seven structurally significant installations, "The Falls" has been installed.
Comprised of roughly 300 dichroic glass panels and 220 hand drawn glass and Pyrex rods, this 65-foot tall suspended sculpture cascades down the escalator well at the entrance to the new main terminal and makes use of the natural light this from the terminal's glass façade to create an astonishing array of ever-changing colors and patterns on adjacent surfaces. Inspired by Utah's natural beauty, The Falls resembles the waterfalls dispersed among the state's canyon landscape.
The installation took several weeks using a custom-designed movable platform to attach the glass panels and rods to the cables with specially-designed glass clamps. The entire suspended sculpture weighs a staggering 5,000 pounds and is attached to the terminal ceiling with spring boots to help retain tension on the cables during the winter months when the roof bends under the weight of up to four feet snow.
The Canyon
Huether's largest art feature at the new SLC airport, The Canyon, features more than 500 individual tensile membrane fins attached to the walls of the new main terminal, has been completed.
Column Plates
The Column Plates, located in a gathering area for both arriving and departing passengers in the new SLC terminal, has been installed.
At 18 feet high and 17 feet at their widest point, these massive structures help create a visual distinction for the various activities taking place in the open space. Echoing the sculptural theme of The Canyon walls, the columns provide visual interest and will function as seating as well as sculptural elements.
For more information about art at The New SLC, click here.