Coming September 15: The New SLC!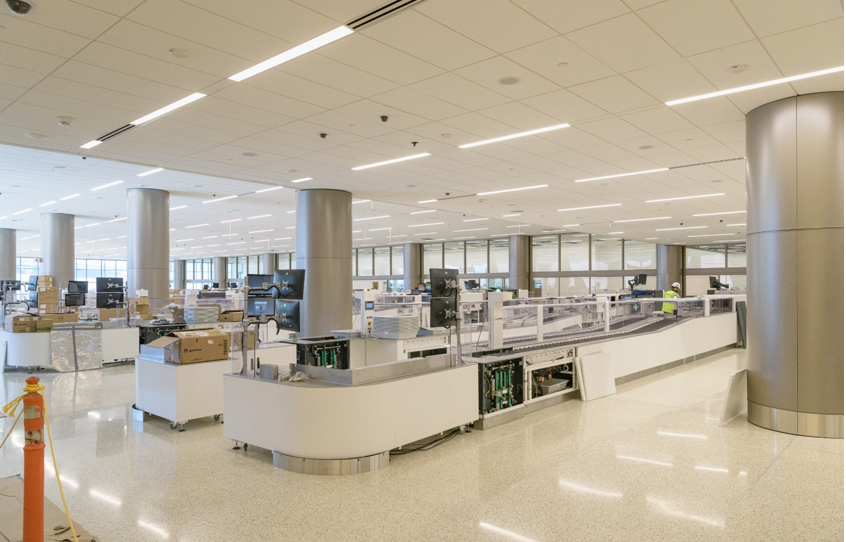 With the opening of The New SLC Airport scheduled for the morning of Sept. 15, the countdown is on to a whole new experience when traveling through SLC.
Access to the new airport begins with a new roadway system that includes an elevated roadway for passenger drop-off along with the entrance into the new parking garage and access to rental car returns. The five-level garage has twice as many parking spaces as the existing garage and a welcome feature is a wayfinding system where a green light helps drivers locate empty parking spaces.
The garage is designed with skylights to direct passengers to moving walkways that lead to the Gateway. Here, car rental counters are housed along with some of Delta's ticket counters for quick check-in. From there, passengers cross one of two bridges into the Terminal building where 16 security checkpoint lanes are located. Security screening now has ASL—automatic screening lanes—which is state-of-the-art checkpoint technology that enhances security efficiency, while decreasing the amount of time travelers spend during the security screening process.
The traditional airline ticket counters are located on the third level where passengers can check their bags and print off boarding passes. After being dropped off, bags take a 7-mile journey through high-level screening and onto waiting aircraft.
Once through security, passengers enter the Plaza area where 50-foot tall windows provide welcome light and views of the airfield—and plenty of places to plug-in—while enjoying a bite from the nearby food court or restaurants. This is a perfect vantage point to admire The Canyon, a large-scale art installation by Gordon Huether.
From there, passengers will walk through Concourse A to their gate where each seat has an outlet to plug-in electronic devices. The concourse has been designed so passengers are never more than 150 feet away from nodes where restrooms are located. Each restroom has a Whimsy Wall wrap, which is a unique piece of art selected for The New SLC by the Salt Lake Arts Council.
The Department of Airports recommends passengers arrive at least two hours early to allow plenty of time to navigate the new airport. There is an enticing selection of shops to browse through and restaurants to sample while waiting for flights to board.
The airport's commitment to safe travel for passengers continues in The New SLC. Cleaning has been enhanced with increased sanitization and disinfecting high-touch areas. Hand sanitizer stations and plexiguard shields are also located throughout the airport and wearing of face coverings is encouraged. For more information, visit slcairport.com.