Meet Bill Wyatt: The Salt Lake City Department of Airports New Executive Director
Late last June, Bill Wyatt had just wrapped up 16 years directing the Port of Portland and was getting a feel for retirement when he got a curious call. It was Korn Ferry—an executive search firm—asking if he'd be interested in a position at the helm of the Salt Lake City Department of Airports.
Not long after, Bill was boarding a plane to SLC to interview for the position of Executive Director of the SLC International Airport. "I began poking around and realized the magnitude of what was happening in SLC," Bill remembers. "I couldn't imagine not taking advantage of the opportunity—building a major hub from scratch."
After a few more visits, where he explored the area, the decision to move was made. "It's very similar to Oregon," Bill said, "but more outdoorsy than Portland." For someone who likes to cycle, golf, ski and spend time outdoors, there was a lot he found appealing.
Soon after accepting the job, Bill bought a house in the avenues and started work at SLC. "This is new chapter in my life in a new place," he says. "I like it here a lot."
Bill has been impressed with the day-to-day operations of the airport—functioning at a capacity twice than what it was built for—as well as how lean the operation is. In addition, Bill said he has great confidence in the Airport's leadership team and the magnitude of the work that preceded him.
"You have to tip your hat to the people in charge in the nineties who developed and began executing a plan—even to build a portion of the concourse connecting tunnel," he said. "I'm not sure we could do what we are doing today without this foresight. It took courage and vision."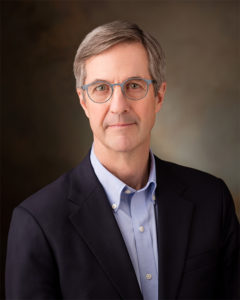 Empowering People
As Executive Director of the Port of Portland, Bill oversaw four marine terminals, two general aviation airports and the Portland International Airport. Prior to this, Bill honed his political acumen as Chief of Staff to an Oregon Governor as well as served as a state representative from his home town of Astoria, Oregon. Working for the Oregon Business Council, as Executive Director of the Association for Portland Progress and Portland's downtown development association gave him a well-rounded management background.
"My management style is to empower people to do their jobs," Bill says. "I'm not a micromanager, not a meddler," he continues. "I have high expectations for people and lean forward, not backwards."
But it was Bill's time spent overseeing the Port of Portland where he came to understand the valuable and unique role an airport plays in a community. "Airports keep us connected to the rest of the country and the world," he said. These connections foster greater understanding in a time with so many challenges."
In addition to overseeing The New SLC Redevelopment Program and ensuring the project is completed on time and on budget, Bill believes in building bridges between the SLC airport and the community and help others come to see the airport as a valuable asset. "We have a unique opportunity to guide construction of a brand new airport that will usher in tremendous opportunity for the future of the entire state", he said. "An airport should reflect the community, and the incredible asserts of Salt Lake City and the great State of Utah."