SLC's Award-Winning Snow Removal Crews
Did you fly in or out of the Salt Lake City International Airport this past winter during a snowstorm? If so, you may not have known it at the time, but there was an award-winning snow removal crew working hard to ensure a safe arrival or departure of your plane.
The Dept. of Airport's snow removal crew has been recognized nationally by the American Association of Airport Executives with the 2017 Balchen/Post Award for excellence in the performance of airport for snow and ice control during the winter of 2016-2017. The award, which is the eleventh earned by the SLC Airport, was presented on April 23 at the annual International Aviation Snow Symposium.
SLC Airport received 51.3 inches of snow during the 2016-2017 winter season. There were nine days when snow plows and other equipment made their way out to the airfield to clear the snow. With 52.6 million sq. ft. of airfield and roads needing to be cleared during a storm, it's no small task to keep important areas, such as runways and taxiways, clear of snow.
During those events, crews drove a total of 7,947 miles, which is almost the distance between Salt Lake City and Sydney, Australia (8,022 miles).
The biggest snowstorm of the year hit on Christmas Day as 9.4 inches fell throughout the day. Snow removal began that morning at 2:15 a.m., and finally ended at around 8 p.m. Throughout the day, crews battled the continuous snowfall and made it possible for every scheduled flight to land or take off. This was the third consecutive Christmas Day our crews were called away from their family Christmas morning, and no one from the snow removal crews called in sick that day.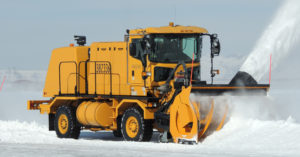 During one of the winter snowstorms, KSL TV crews road got an up-close look at the snow removal operations.
Congratulations to the airfield maintenance crew for their outstanding performance.
Click here for more information on snow removal at the SLC Airport.