SLC Airport Welcomes Fire Chief Fife
The Salt Lake City International Airport is pleased to welcome Ron Fife as the new Airport Division Fire Chief. Chief Fife comes to the airport with 38 years of experience with the Salt Lake City Fire Department. Following in his family's footsteps, Chief Fife says firefighting is in his blood, as his father Robert Fife served as a Salt Lake City firefighter for 33 years.
Ron Fife started his career in February of 1977 at Salt Lake City's Fire Station 8. Over his 38 year career Chief Fife spent 25 years as a paramedic, five years as a Captain and has eight years as a Chief. Additionally, he has been involved with the Heavy Rescue Team (HRT), Training and Apparatus, and Medical Services Departments. Chief Fife enjoys serving at busy fire stations which makes him the perfect fit for the diverse work at the airport.  When asked what he enjoys most about serving in the Salt Lake City Fire Department is, he says "the camaraderie. I love being part of a team and helping people."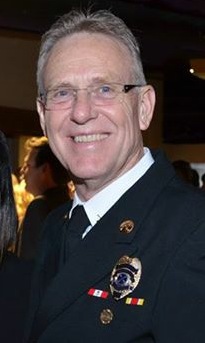 In addition to his work with the Fire Department, Chief Fife has also spent the last 25 years as a counselor, co-director and mentor for the Utah Burn Camp. This is an issue in which Chief Fife is deeply passionate, as he emphasizes that those he helps are "burn survivors not victims". The Utah Burn Camp is held twice a year, and brings burn survivors from throughout the Intermountain West to help them with healing and recovery. Because of his leadership and commitment to the cause, Chief Fife was recently asked to serve as the Director of the National Burn Camp in Washington, D.C.
In his personal time, Chief Fife loves spending time with his wife of 35 years Karin, their six children and nine grandchildren (grandchild number ten is on the way). Some of his other pastimes include camping, boating, reading, traveling, and watching movies with his family in their home theater.
Chief Fife has a clear passion for the fire service, the people that he works with, and the community he serves. He is excited for his new position and the opportunity to work with the Salt Lake City Airport – and we are lucky to have him. Welcome, Chief Fife!