Why Rebuild SLC?
Replace obsolete facilities
Salt Lake City International Airport (SLC) served more than 26 million passengers a year in facilities constructed 60 years ago to handle half as many travelers. SLC is now a hub airport with many flights arriving and departing around the same time. Security needs are vastly different from when the airport was originally constructed and buildings no longer meet earthquake safety standards.
In short, though the former facilities served the airport well, it's time to make way for the next generation of airport design.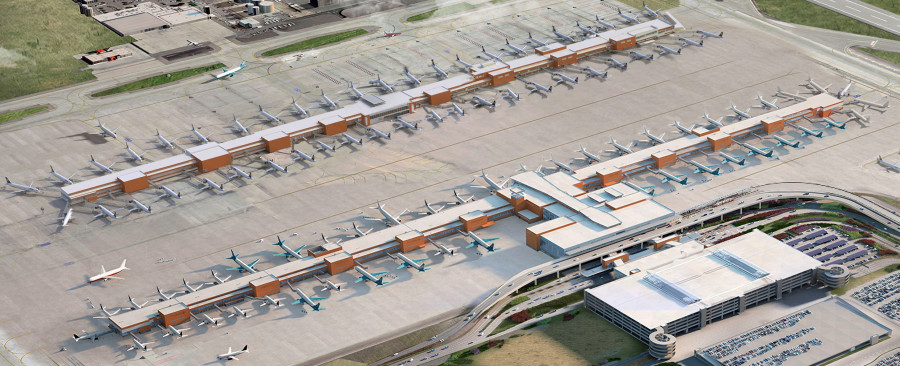 Provide flexible, right-sized design for the future
Salt Lake City Department of Airports has spent years assessing the best approach to a flexible design that meets operational needs, user convenience and sustainability. The new airport will be designed to meet Salt Lake City's needs for decades to come and be adaptable to the constantly changing aviation industry.
Easy to use
The new terminal and concourses have state-of-the-art functionality and ease-of-use. For example, most up and down movements via escalators and elevators have been eliminated, making facilities easier and quicker to navigate.
More efficient
The new terminal and concourses eliminated airplane-parking bottlenecks and allow aircraft to get back in the air more quickly, which means fewer delays for passengers. A single terminal eliminates redundant facilities for passenger check-in, security screening and baggage claim.
Sustainable
The terminal and concourses are designed to meet high environmental standards and aims to meet LEED Gold rating from the U.S. Green Building Council.
Phased implementation
The long-range development schedule for the new facilities provides the airport the flexibility to react to changing economic conditions and travel patterns. The first phase, which opened in September of 2020, includes a new parking garage, a central terminal, and the west portion of the Concourse A. The west portion of the Concourse B opened in October of 2020. The second phase of the project includes building out the east portion of the Concourse A and tearing down existing structures. The second phase is expected to be completed in 2023 with five gates having opened in May, four more opening in August and 13 opening in November.
Maintain competitive cost
SLC is one of the nation's most cost-effective airports for airline operations. Having replaced aging facilities will help keep costs low. No local tax dollars are being spent on the project, which will be paid for using a combination of airline and passenger user fees. When the airport began construction it had no debt and was able to use savings to get the project underway. The airport received favorable borrowing terms for the rest of funds needed because of its excellent credit history.
Maintain partnership with airlines
SLC has a great partnership with the airlines that serve Salt Lake City. Delta Air Lines, the airport's largest user, is very supportive of the Airport Redevelopment Program, as are other airlines.