Highlights of The New SLC
Salt Lake City International Airport (SLC) has grown into a hub airport with many flights arriving and departing around the same time. Security needs have evolved, and new buildings that meet earthquake safety standards are required.
SLC's former facilities served passengers well but it's time to make way for the next generation of airport design. Click here to read some of the highlights of The New SLC.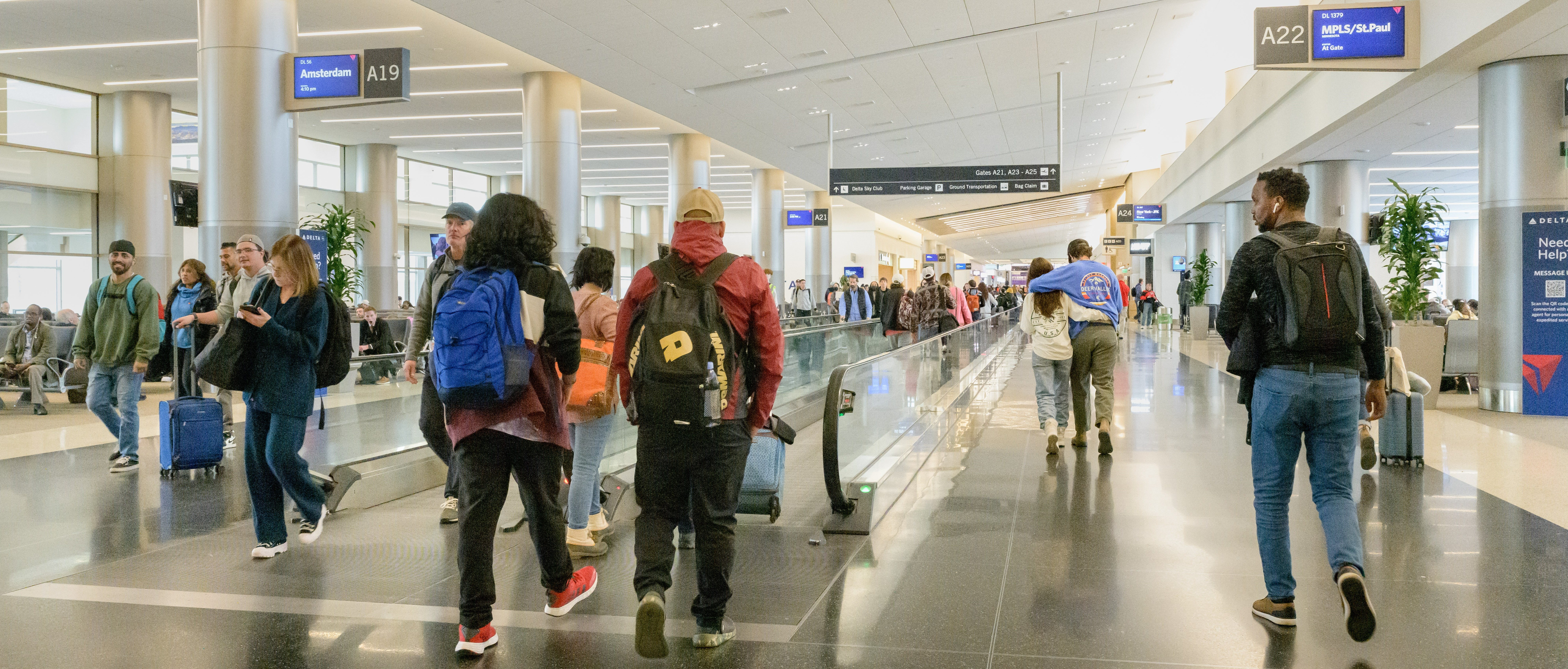 Replace Obsolete Facilities: The former facilities were not efficient for use as a modern hub airport and are not built to today's earthquake standards.
Flexible, Right-Sized Design for the Future: The new facility was designed to meet Salt Lake City's needs for decades and be adaptable to the constantly changing aviation industry.
Easy to Use: The new building has state of the art functionality and ease-of-use.
More Efficient: The new terminal eliminates airplane parking bottlenecks and allows airlines to get planes back in the air more quickly, meaning fewer delays for passengers.
Sustainable: The new building was designed to high environmental standards. Designers are aiming for a LEED Gold certification from the U.S. Green Building Council. A "Roadmap to Net Zero" is in development, which gives designers a plan for how the facility can ultimately generate as much power as it uses.
Remain Cost-Competitive: SLC is one of the nation's most cost-efficient airports for airline operations and having replaced aging facilities will help keep costs low. The program is funded by federal grants, user fees, airport revenue bonds and airport reserves. No local tax dollars will be used for the airport redevelopment program.
Maintain Partnership with Airlines: SLC has a great partnership with the airlines that serve Salt Lake City. Delta Air Lines, the airport's largest user, is supportive of the terminal redevelopment program, as are other airlines.
Construction on the $5.1 billion program began in July 2014 and will continue in phases through 2027. The parking garage, terminal building and west portion of and south concourse were completed in September of 2020. The west portion of the north concourse was completed in October of 2020.
View conceptual renderings and images of The New SLC on the Renderings and Images page.
The project team for The New SLC is HDJV, a joint venture of aviation industry leader Holder Construction and Utah's Big-D Construction. To learn more about HDJV, go to

www.hdjvteam.com

.

The project team for the North Concourse is a joint venture between Austin Commercial and Okland Construction (AOJV). To learn more about AOJV go to

The architectural firm for The New SLC is HOK. To learn more about HOK go to

www.hok.com

.

Click here for a list of businesses working on The New SLC Redevelopment Program.
Click here for a list of businesses working on the North Concourse program.