Pick Up and Drop Off
Please note that only individuals with an airline ticket, airport badge or airport authorization will be allowed in the public areas of the airport. All drop-offs and pick-ups must be done curbside in designated locations or in the parking garage. One individual may accompany a ticketed passenger, if the ticketed passenger needs assistance with arrival or departure. Anyone entering the airport is required to wear a face covering.
Separate pick up and drop off areas are available for arriving and departing passengers at SLC. The elevated roadway (indicated in blue on the map below) is for passenger drop off for the third level of the terminal. To access this road, stay right on Terminal Drive when approaching the terminal.
The far left lane on the ground level (indicated in purple on the map below) is for pick up. There is a 13-foot height restriction to drive in front of the terminal to pick up passengers.
Pick Up in the Parking Garage
Those picking up passengers in the parking garage should park on the third level of the garage and wait in their vehicles until their passengers arrive.

Park and Wait Lot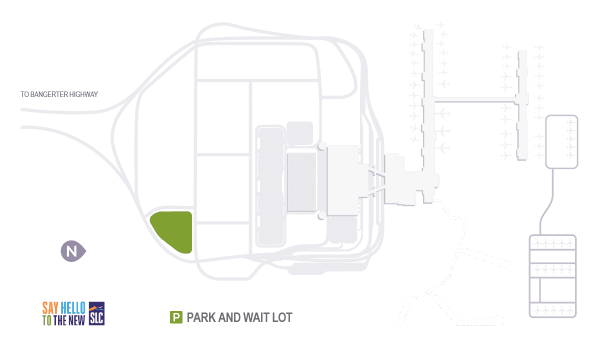 The airport's free Park and Wait Lot allows drivers to wait for arriving passengers until they are ready to be picked up. The lot is located west of Terminal Drive, just southeast of the Terminal.
Park and Wait offers an alternative to circling the terminals or parking in the hourly/daily parking lot, and provides large electronic flight information signs displaying flight arrival information. Once the flight has arrived and time is allowed for passengers to receive luggage, the sign indicates "ready for pick up." However, the airport encourages drivers to wait for pick-up until passengers are at the curb, confirming with their arriving passenger via cell phone.
The airport has an idle-free policy and we encourage drivers to abide by this policy in the Park and Wait Lot.