Community and Environment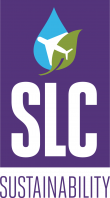 Sustainability is core to our purpose. Our mission is to be a leader in the community and airport industry by preserving and enhancing our financial, human, natural, and energy resources.
Please explore the SLC Airport Sustainability dashboard below as we document our key sustainability performance areas, develop initiatives and monitor progress toward our goals.

Environmental, Social, and Governance Report
Click HERE to view the Salt Lake City International Airport's Environmental, Social, and Governance (ESG) Report.
The Good Traveler
The Salt Lake City International Airport is a member of The Good Traveler Program, which offers travelers a quick and easy way to make their air travel more sustainable. The program provides travelers a way to offset emissions resulting from their flight by purchasing carbon offsets. For more information can be found on The Good Traveler website.
Climate Positive
On September 15, 2020 the airlines transitioned to electric ground support equipment, reducing 8,000 metric tons of greenhouse gases (GHG) annually.
The airport currently operates 78 electric vehicle charging stations (EVCS) on its campus, accommodating 156 parking spots. This includes dual stations in the parking garage (28), economy lot (28), South Employee lot (8), Parking Lot E North (5), Parking Lot E South (5), Airport Operations Center (1) and North Support (3).
Since June 2018, use of the stations has eliminated 70 metric tons of GHGs.
Energy Resilience
An 80 MW solar farm, constructed by Rocky Mountain Power through an agreement with Salt Lake City, will offset 50% of the City's municipal operations by 2022.
Solar panels installed on the roofs of Fire Stations No. 11 and No. 12 began operating in April of 2020. Fire Station No. 11 will generate 100% of its electricity, while Fire Station No. 12 will generate 80% of its electricity.