Sustainability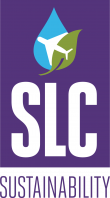 Sustainability is core to our purpose. Our mission is to be a leader in the community and airport industry by preserving and enhancing our financial, human, natural, and energy resources.
Please explore the SLC Airport Sustainability dashboard below as we document our key sustainability performance areas, develop initiatives and monitor progress toward our goals.

Climate Positive
On September 15, 2020 the airlines will transition to electric ground support equipment, reducing 8,000 metric tons of greenhouse gases (GHG) annually.
The airport currently operates 28 electric vehicle charging stations (EVCS). In two years, use of the stations have eliminated 45 metric tons of GHGs. On opening day, 78 additional EVCS will be operational on the airport campus.
Energy Resilience
An 80 MW solar farm, constructed by Rocky Mountain Power through an agreement with Salt Lake City, will offset 50% of the City's municipal operations by 2022.
Solar panels installed on the roofs of Fire Stations No. 11 and No. 12 began operating in April of 2020. Fire Station No. 11 will generate 100% of its electricity, while Fire Station No. 12 will generate 80% of its electricity.
Sustainable Design
The NEW SLC will utilize several sustainable design solutions such as solar heating of interior spaces, a high-performance building envelope, evaporative cooling systems, daylighting, and a highly reflective roof coating. The design of the NEW SLC will have an estimated energy savings of 32% compared to the baseline annual energy use.
The NEW SLC project will divert at least 95% of all construction waste from landfills and incinerators. It will use 20% of materials that incorporate recycled content and 20% of materials that are extracted and manufactured within the region.